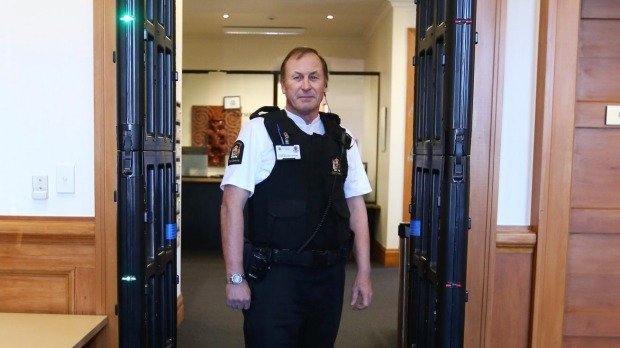 Security "incidents" at courthouses had decreased at the Blenheim District Court
Security is being stepped up at the Blenheim District Court with a new security officer joining the team and a portable handheld metal detector in action more often.
The metal detector scans visitors to reveal if they are bringing weapons into the courthouse, including items such as nail files and knives.
Ministry of Justice director of technical and judicial security Darren Nicholas said the scanner, bought in 2014, was being used more often because a new security officer was added at the start of this year.
Security was a priority on Mondays, when criminal offences were dealt with, because the high number of visitors posed the highest risk to the safety of court staff and visitors, he said.
Before the new security officer was employed, the scanner was used only for trials, appearances for serious charges or when people had been flagged as dangerous.
A ministry spokesperson said in 2014 the portable scanner would be shared with other courthouses in the top and west of the South Island.
This was no longer the case, and the scanner was now used only in Blenheim, Nicholas said.
Court security officers had the power to seize "potentially dangerous items" and visitors carrying objects that could be used as weapons would have to surrender them and recover them when they left.
Ten items were temporarily seized by security staff at the Blenheim District Court between January 1 and April 30 this year. Such as firearms, could have them confiscated permanently, and they could be detained with the matter handed to police.
A person brought .303 ammunition to the courthouse on January 21 in 2014, and another brought tools and shotgun ammunition on July 31.
The outcome of those confiscations was not recorded by the ministry, Nicholas said.
The ministry had improved security at courthouses across the country since 2009 by purchasing more metal scanners, employing more security officers and increasing the amount of screening, Nicholas said.
No such items were confiscated this year or last year.
Security "incidents" at courthouses had decreased by 35 per cent since those changes.
Larger courthouses such as the Christchurch District Court had permanent screening stations set up with X-ray baggage scanners and handheld scanners.
Security staff screened 1.5 million people nationally last year, up from 400,000 in 2008.